It never stopped raining that night. I stepped into my dark apartment and pulled out some dry clothes from the suitcase.Mr. Bean's face popped up from my neck as my fingers were met with a queerly soft, cool sensation. "Owhw!" I turned on the light. It was my Ao dai (アオザイ) – a traditional garment. Its role in Vietnamese culture is analogous to that of the Kimono in Japanese culture or the Sari in Indian culture. Those delicate purple layers of fabric were looking so sternly at me like a creature with a story yearning to be told. So, if you are curious about how the Ao dai came into existence, I invite you to hop into my time machine right now. Our destination? Vietnam in the 17th century.
(Note: Due to concerns about the copyrights of historical photos on the internet, I will use my own drawings in this article. However, for the sake of clarity, I also attach the links to the real photos at the end of the article. Please click on the links if you want to see those historical photos. Thank you. Now let us get back to our journey.)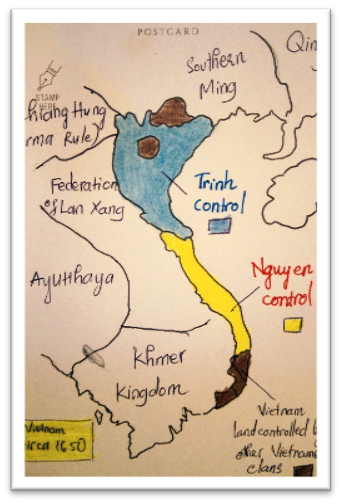 The country was being ruled by two major feudal organizations, the Trịnh Lords and the Nguyễn Lords, each holding a voracious ambition to destroy the other, claiming total authority. In the period of nearly half a century from 1627 to 1672, they fiercely engaged in seven inconclusive battles. Frustrated, both parties agreed on using the Gianh river in Quang Binh province to divide the country into two parts: the south controlled by the Nguyen Lords and the north controlled by the Trinh Lords. To distinguish the southerners from the northerners, in 1744, Lord Nguyen Phuc Khoac decreed that "both men and women at his court wear trousers and a gown with buttons down the front", according to Wikipedia. It remains controversial whether that dressing code refers exactly to a gown called "Áo ngũ thân" or some other undocumented gown. However, in this article, I assume that this theory is true.
Áo ngũ thân was a loose, baggy gown made of five panels. "Ngũ" means five. Vietnamese in the south wore Áo ngũ thân as a way of upholding Confucian values such as self-control and moderation. Everyone was expected to move with dignity and refrain from expressing their individuality. Although this oversized gown was far from enhancing female beauty, it is widely considered to be the predecessor of the modern Ao dai.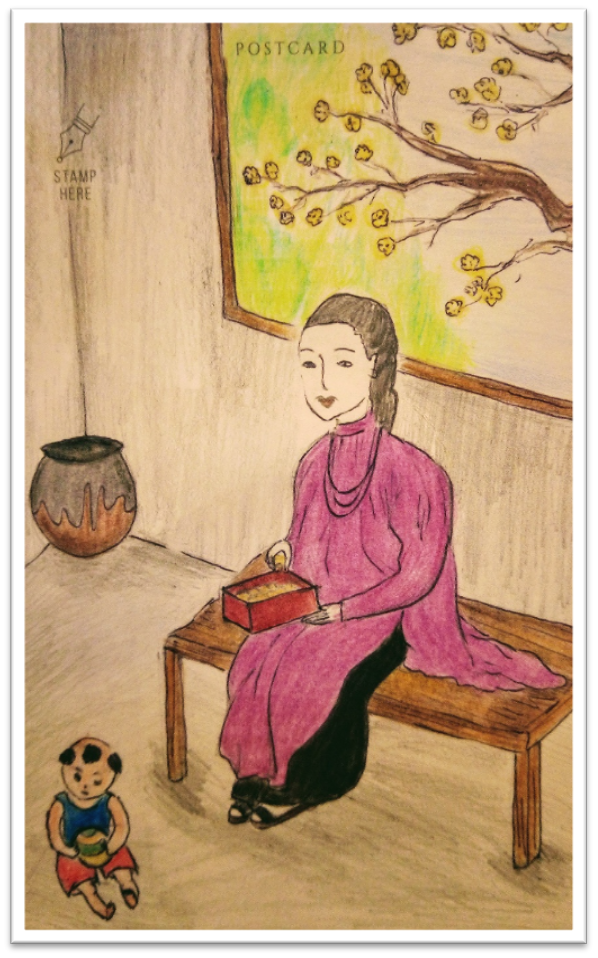 Like a chameleon adapting its skin color to match its surrounding environment, the design of Ao dai also changes with the ebbs and flows of history, reflecting the very peculiar cultural atmosphere of its time.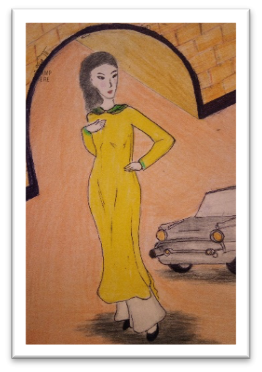 From the late 1800s to 1954, Vietnam was under the French colonial rule. In the early 1930s, an art graduate named Cat Tuong (also known as Le Mur) integrated some Paris fashions into the old five-paneled gown, transforming it into a modernized dress named "the Lemur Ao dai" after him. This design notably eliminated excess fabric to flatter the soft curves of women, marking the first official effort to honor the charm of womanhood.
From 1955 to 1973, Saigon (now Ho Chi Minh city) became an economic and political center of the south as the US got seriously involved in the Vietnam war. This period saw another two significant breakthroughs in Ao dai design. In 1960, a tailor named Dung in Dakao, Saigon created the Raglan Ao dai. Besides the raglan sleeves, this design also included a thin elastic band around the waist to create the hourglass effect. Personally, this is my favorite design in the evolution of the Ao dai.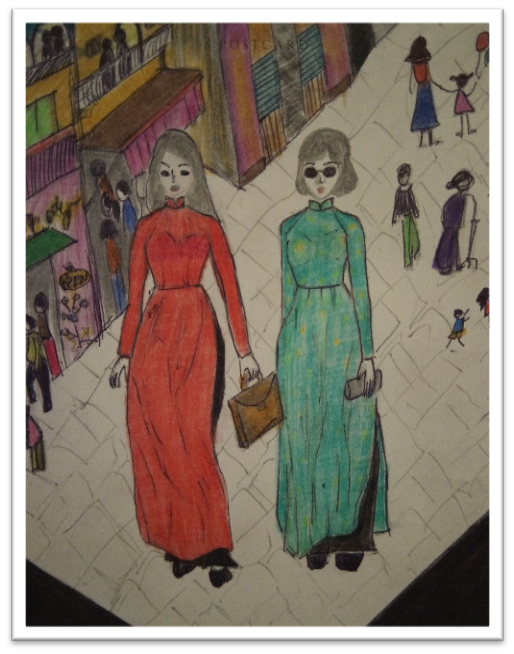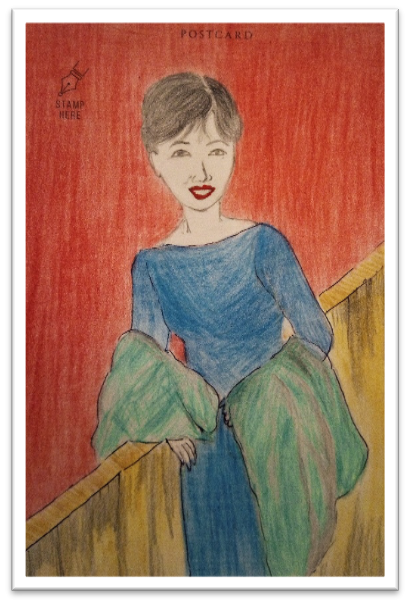 Later in the 1960s, another modification was brought about by Madame Nhu, First Lady of South Vietnam from 1955 to 1963. Being a passionate, forceful, and progressive lady herself, she removed the collar altogether and replaced it with a deep neckline. At first, there was a backlash from the public condemning the dress of being too revealing, not in accordance with tradition. However, as this creative Ao dai accompanied her to many political meetings and public events, it rapidly inspired widespread fascination among young women. They soon came to love it for its simplicity, fashion, and comfort.
Now, the Ao dai has come to a state in which it preserves and builds up on its aesthetic achievements. The modern customer today can enjoy a variety of styles depending on the situation and personal taste.
I see the Ao dai as a moving piece of art because it can be a gateway into the soul of the woman wearing it. When a woman wants to commission an Ao dai, she first needs to decide on a certain kind of fabric, color, and texture. Whether it be chiffon, silk or velvet, yellow, blue, or purple, plain, or decorated with some lotus flowers, or polka dot or plaid… is up to her. Then she would have a friendly conversation with her trusted tailor about other details such as the form of the neck, the length of the sleeves, and additional accessories. This process results in a highly personalized garment. A bystander may feel tempted to wonder: "Is she a vibrant soul who loves bold colors and sparkling patterns? …Is she a dreamy fan of purple?" Maybe. Maybe not. But it is pleasant enough to make one's own aesthetic speculations occasionally. Nowadays, many people have returned to the art of tailoring for the same reason. It offers an explicit yet humble form of self-expression.
Today, amid the pervasive effects of globalization, each country's traditional garment serves as a reminder of origin, national identity, and the preservation of tradition. Personally, the Ao dai reminds me of my ancestors, the endless yellow paddy fields, the benevolent temples in my village, and the enduring love waiting for me across the sea; while other countries' traditional garments kindle my curiosity about how life unfolded in other parts of the world.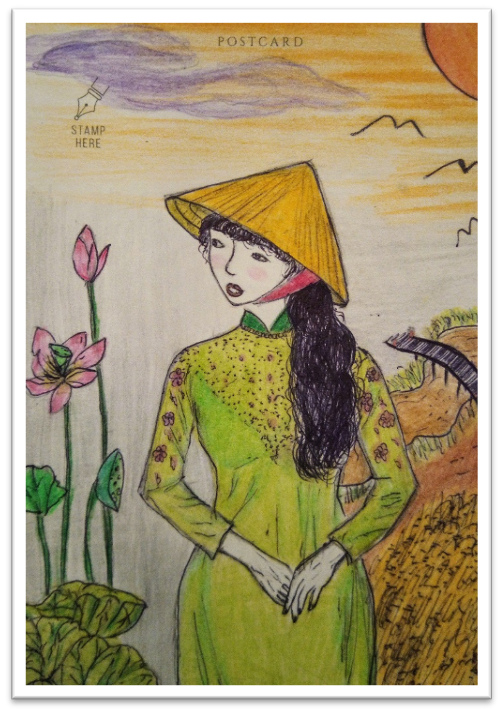 As our journey following the progression of the Ao dai is coming to an end, I want to thank you for your precious time and continued attention. I hope you had a good time and found something interesting. Until our next adventure, stay safe and stay well. 
Links to historical photos:
References
These pictures were drawn by Nhi Mai.