Having been away from home for nearly two years, one of the things I miss most about Vietnam is its cuisine. This time I will write about some aspects of our eating habits and then introduce two delicious dishes that are loved by many Vietnamese.
1.A typical meal in southern Vietnam
Most families in southern Vietnam have three main meals day, namely breakfast, lunch, and dinner. Breakfast differs from person to person. For example, my parents usually eat the leftover from the previous day's dinner for breakfast, while my younger brother may eat a bowl of instant noodles or banana pancakes sold by street venders every morning.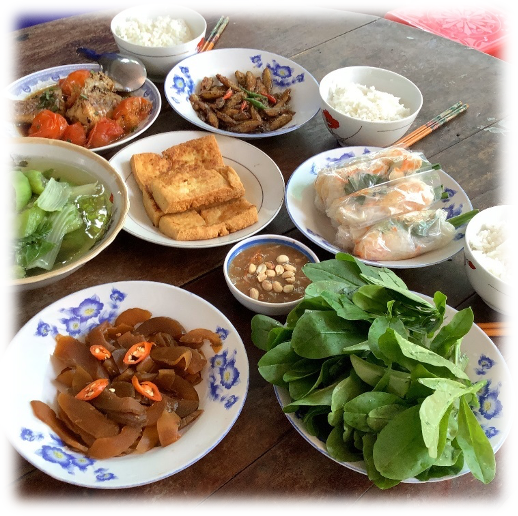 Chopsticks and spoons are our main eating utensils. A pair of chopsticks has two ends. People would get their food with the smaller end, and sometimes they may use the bigger end to put food into someone else's bow as an expression of love and care.
Rice is the staple food in Vietnam, as well as many other Asian countries. Although white rice has been the dominating type for a very long time, many families have started consuming brown rice in recent years due to its increasingly well-known health benefits.
Meat and fish are the two major sources of protein in our meals. The most popular types of meat include chicken, duck, pork, and beef. In the countryside, it is common for men to catch fish in the local river or lakes with fishing rods or nets. After that, their wives will use the fish to cook a meal for the family and sell the extra amount of fish, if there is any, at the local wet market. This traditional custom symbolizes an economical and healthy lifestyle, I think. Local fish is tasty and nutritious but is often limited in variety. In recent years, however, urbanization has made it easier for people to consume numerous kinds of fish and seafood from remote areas.
To Vietnamese vegetarians, tofu is a much-loved ingredient because it is rich in protein and easy to cook.
Vegetables are relatively cheap. Many families in the countryside even grow veggies in their backyard for domestic consumption. Water spinach, katuk (アマメシバ), gotu kola , pepper elder, cucumber, and tomato are some examples of familiar vegetables in a typical meal in southern Vietnam. In my hometown (Dong Thap), it is not uncommon for people to eat rice with certain kinds of fruits such as banana and watermelon.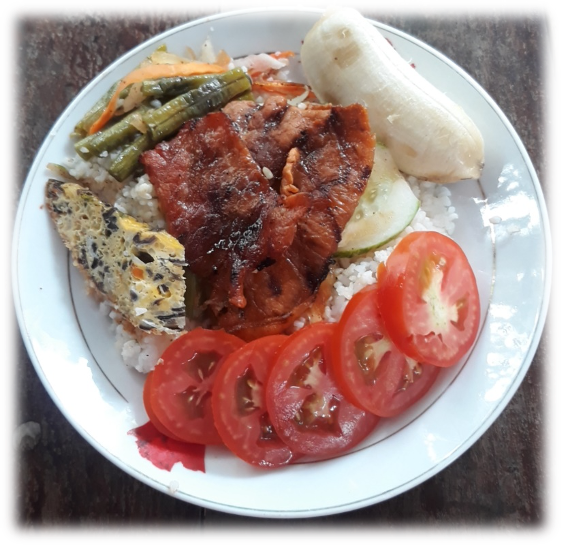 On special occasions, like family celebrations or having special guests, housewives often go the extra mile to prepare more fine cuisine. In the rest of this post, I will discuss two of the most beloved special dishes in southern Vietnam – Pho and Banh xeo.
2.Pho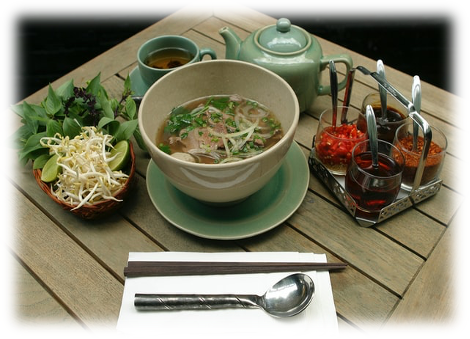 Pho first appeared in Vietnamese cuisine in the early 20th century, and then became widespread around the world with the flows of refugees after the Vietnam war. Today, pho is found everywhere throughout Vietnam, from mobile street food stalls to high-end Pho restaurants. The broth for beef pho is made of beef stock – a liquid in which beef bones, tiny pieces of meat, and vegetables are simmered.
There are five key spices in pho broth, namely star anise, whole cloves, cinnamon sticks, cardamom pods, and coriander seeds. To serve pho, the cook would put a handful of rice noodles in a big ceramic bowl, pour in some broth, add a few thin slices of rare beef, meatballs, and green onions on top. The customer then can freely include additional ingredients on the table such as lemon, chilly, and bean sprouts to their bowl of pho depending on personal taste.
3.Banh xeo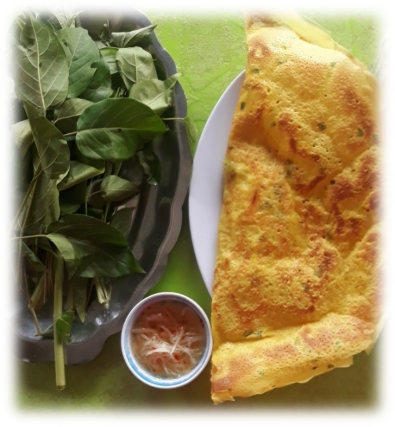 Banh xeo is a kind of stuffed pancake made from a mixture of rice flour, turmeric powder, water, and coconut cream. "Banh" means cake, and "xeo" means sizzle – the loud sound the mixture makes when it touches the hot pan. After being cooked, the mixture will turn into a crispy, yellow layer that covers the inner part, which is usually made of a composition of cooked pork, shrimp, bean sprouts, and turnip. Banh xeo is best enjoyed together with Thai basil, lettuce, cucumber, and a nuoc mam – a fish-based dipping sauce.
Banh xeo is typically eaten by hand. You can take a piece of the yellow banh xeo, together with some veggies and then cover them with a lettuce leaf to create a cute little scroll. Finally, gently immerse your scroll into the fish-based dipping sauce and your serving of banh xeo is ready!
References:
Kayla McDonell, RD (August 31, 2016) "Brown vs White Rice – Which is better for your health?". Healthline. https://www.healthline.com/nutrition/brown-vs-white-rice
Pho Wikipedia (last edited on 29 March 2021) https://en.wikipedia.org/wiki/Pho
Ali (October 21, 2019) "Pho (Vietnamese noodle soup)". Gimme some Oven. https://www.gimmesomeoven.com/pho-recipe/#:~:text=Vietnamese%20pho%20broth%20is%20traditionally,cardamom%20pods%2C%20and%20coriander%20seeds.
Banh xeo Wikipedia (last edited on 18 March, 2021) https://en.wikipedia.org/wiki/B%C3%A1nh_x%C3%A8o